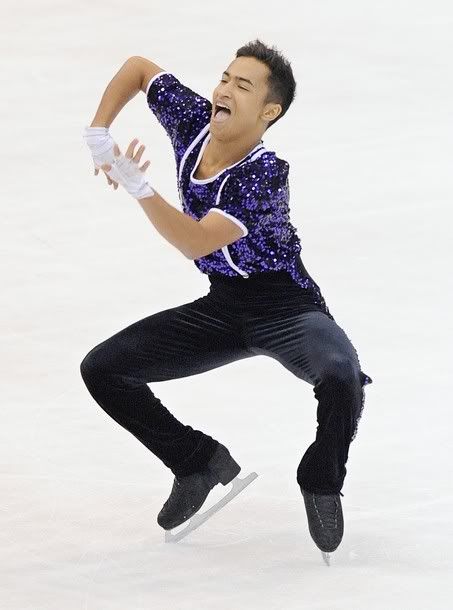 Only a couple more days until Trophee Eric Bompard starts! I've dying for this since about halfway through the men's freeskate at Cup of Russia, and I am really looking forward to what will hopefully be a much more exciting men's event. Here's the rundown on who to look out for.
In
Pairs
Savchenko and Szolkowy are easily favorite for gold - unless they explode entirely, I doubt anyone will be able to touch them. For the rest of the field it will simply be a fight for silver and bronze.
As for Ice Dancing, the heavy favorite is definitely the French team of Pechalat and Bourzat; it is doubtful that anyone will truly challenge them here, but Chock and Zuerlein will definitely be looking to follow up their bronze at Skate Canada with another medal here. Several of the other teams only finished 5th at their earlier Grand Prix showings this season, so it could be interesting to see how they stack up in Paris.
The Ladies, contrary to the pairs and ice dance events, have no clear favorite for the title here. Alissa Czisny, Mirai Nagasu, Kiira Korpi, and Cynthia Phaneuf seem to be the most likely candidates for a win here, but none of them are exactly models of consistency. Also, although I wouldn't place any bets on her (or more likely, Fantasy Skating picks), it wouldn't do well to count out reigning World Champion Mao Asada, even with her jump troubles as of late. I really hope Mao really get her feet back under her here; seeing her struggle the way she has is disheartening, especially because she is a much better skater than that.
And finally, the Men. The men's event in Paris features Brian Joubert, Takahiko Kozuka, Florent Amodio, Kevin Reynolds, and Brandon Mroz. Mroz will be looking to build upon his silver medal win at Cup of China, and possibly qualify for the Grand Prix Final. Joubert, while not one to be counted out, usually doesn't skate well in his home country ( He's even admitted to disliking competing there!), so we'll see what he puts out this time. Also, if he wishes to really challenge for the title here, he better have worked on getting his spins up to a higher level of difficulty - all but one spin were deemed level 1 in the long program at Cup of China, which really cost him. Amodio is another one looking to build on success from his prior Grand Prix this season - his third place finish at NHK is a fairly impressive result, given that he was against Takahashi and Abbott there, and he even beat Abbott in the freeskate! If he can put the jumps together again here, that combined with his performance quality should be enough to get him on the podium. Reynolds, while having multiple quads with a good deal of consistency, isn't exactly consistent in everything else. He tends to land great quads, only to have mistakes on triple axels or simpler elements later on, so I'm not very convinced that he'll manage a medal here.
Lastly, Kozuka is a definite threat here, after a solid win at Cup of China. His jumps, spins, and basics are all there - he could just use some more expression in competition (some does seem to come out in exhibition). However, when Kozuka is on, his skating is absolutely mesmerizing.
All in all, I'm really looking forward to seeing how this event plays out and who the final Grand Prix Final slots go to. Here's to hoping that the skating is better than at Cup of Russia!