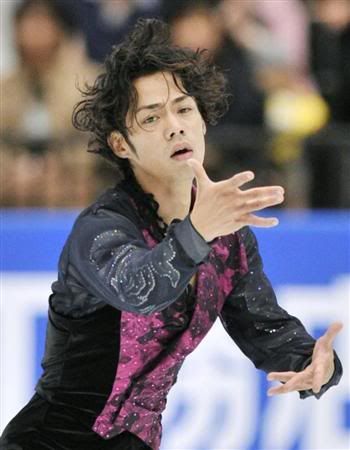 In anticipation of this season's Grand Prix opener, I've decided to post some of my expectations and hopes for certain skaters that I'm keeping my eye on, beginning with my favorite discipline - the
men
!
Daisuke Takahashi - I definitely expect (and hope!) that the reigning World Champion will land on the podium, and think that it's pretty likely that he will land on the top step. Daisuke expects a lot from himself, artistically and technically, and I look forward to seeing how that culminates here.
Jeremy Abbott - Jeremy is a skater that I really do enjoy watching, but you never really know which Jeremy is going to show up on the ice. He either skates beautifully or explodes entirely. I do expect him to medal, but think it is more likely to be silver than gold.
Florent Amodio - This up and coming French skater first capture my attention at the 2010 Olympics, especially with his sad clown program. With more difficult content being put into his short program this season, hopefully he'll continue to move up the ranks, starting here. I'm hoping that either Florent or Yuzuru Hanyu capture the bronze.
Yuzuru Hanyu - The 2010 World Junior Champion already seems to have a nice presence on the ice ,and the technical content to challenge for a medal at his first senior international ever. I'm really looking forward to seeing what he does this season.
As for the
ladies
, I'm curious to see if
Mao Asada
can find her consistency again, as she has been reworking her jump technique after switching coaches. At the
Japan Open
, she honestly was a mess, but hopefully these last few weeks have given her enough time to get her technique under her belt.
I don't really have many thoughts as far as the American ladies go for this event - I am curious to see if Caroline Zhang's work on her speed and technique have paid off though.
Kanako Murakami, the 2010 World Junior Champion, seems like a good bet for the podium, as long as she holds up under pressure.
My only expectations as far as ice dancing and the pairs go are that Meryl Davis and Charlie White will dominate the dance event easily, Qing Pang and Jian Tong will do the same in the pairs event, and I think that the American pairs team of Caydee Denney and Jeremy Barrett might land the bronze.